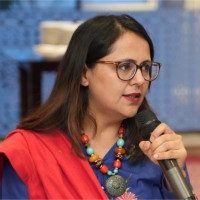 As a Chair of Civil Society Support Program (CSSP), I am proud to what this organization continues to achieve since its inception in 2007. More than 17,800 youth from 40 districts of Pakistan were organized, educated, engaged and empowered by providing them with a youth-led organization named "Voice of New Generation (VNG)". CSSP has reached to 23000+ out of school children enrollment in 4 districts of Sindh, It has trained 3100 (number of women who got skills based trainings.
CSSP plays a unique role especially in the rural areas of Sindh that have historically performed poorly against socio-economic indicators and causing us to lag behind our commitments of achieving Sustainable Development Goals (SDG) by 2030. Literacy rate in Sindh shows a declining trend in 2019 as compared to previous years(SDG4). Situation is dismal particularly when it comes to the dropout rates of girl childrenis 50% in Sindh. 43 % people live below poverty line and unemployment stands at 6% in youth of Pakistan. Youth (aged between 15 to 29) is 26.28%of total Sindh population (SDG1,2 &8). Indicators of women socio-economic empowerment are also not promising. Pakistan currently ranks the second lowest country in the world for gender equality (SDG5).
The above stated challenges and the emergent threat of unemployed youth are set to intensify social and economic challenges, urging us to support our youth & women particularly in rural and invest in sustainable solutions and improve their livelihoods.
As CSSP team present in 06 (Hyderabad, Mirpurkhas, Tharparker, Umerkot, Sukkur and Shikarpur) of Sindh continue to help the community in general and youth, women and disadvantaged segments in particular through multiple initiatives, the Board is also keeping an eye on the future and thinking about the strategic shifts we need to make if we are to accomplish our mission.
CSSP has been an active member of National Humanitarian Network (NHN), representing as Central Executive Committee (CEC) member since last 8 years and has been playing a proactive role in emergencies in the past.
We at CSSP are mindful of how COVID-19 is causing much concern for many people, businesses and organizations worldwide, and how it is specially impacting the marginalized segments of our society. During this time we are making sure that we continue to work on grounds but with all preventive measures as health and safety of our team and communities are our primary concern. The crises brought by COVID-19 will change the work dynamics and cause a major operational and cultural shift in our work interventions, and this will depend on the proactive leadership decisions that we make in the weeks ahead.
To all our partners, government administrations, national & multinational organizations; and most importantly our team members, including employees and the Board, thank you for your trust in us and contributing to our work; we could not do this without you. You all have enabled us to uphold our values of transparency, collaboration and accountability throughout our journey. We are confident that we will continue our efforts with your support with highest zeal and passion in the coming years of CSSP.