Composite Heritage, Sports and Tourism
(Contributing SDGs: 8, 10, 16)
CSSP envisages working on Composite Heritage, Sports and Tourism through engagement of line departments, universities and youth.
The General conference of United National educational, Scientific and Cultural Organization also referred to UNESCO held in Paris from 23rd September to 17 October 2003, as its 32nd session. It highlighted the importance of intangible cultures. Intangible cultural heritage is practices, expressions, representations, knowledge, skills, instruments played, objects and all cultural spaces that are associated with a community. The community recognizes them as a part of their cultural heritage. UNESCO convention 2003 considered the intangible heritage to be the mainspring of cultural diversity and a guarantee of sustainable development. Similarly sports and tourism is important for recreation and exchange of experience and ideas.
To promote healthy and happy social environment through harnessing potential of art, culture, sports and tourism for all strata of the society.
o Engaged Youth in promoting healthy activities such as sports.
Protected heritage through various interventions.
Promoted of Cultural and Art among youth and people through exchange visits
Social Cohesion and Religious
Harmony
The CSSP is implementing a programme on Social Cohesion and Religious Harmony where it seeks to promote tolerance, respect for diversity, and peaceful coexistence. Through its work on promotion of folk wisdom, cultural festivity, celebration of days, sports for peace, and peace campaigns, the organization seeks to contribute to sustainable peace and development, peaceful resolution of conflicts, and ultimately creating a shared vision for a better future for all.
To promote the social and religious harmony through promotion of culture, folk literature, and local heritage.
To promote socio-economic cooperation by focusing on social cohesion and economic development for building inclusive societies.
To use the power of sports to promote peace, social inclusion, and community development.
To support the public institutions in strengthening the protection mechanism through improving the services and capacity of the relevant staff members.
The CSSP aims to promote social and religious harmony by promoting the message of Sindh's culture, folk literature, and local heritage by bringing all concerned stakeholders including religious leaders, social workers, political leaders, local writers, and intellectuals on one platform through organizing, capacity building and mobilizing them in the peacebuilding process. Building peace among local communities has helped in prevention of conflicts and leads to resolving sensitive issues in a peaceful way. The key interventions conducted under this programme includes;
Organized Peace festival (Melas) at district level where government representatives, intellectuals, artists, and social activists gathered to discuss history, literature, and issues of policy implementation of minorities & women rights, education, and environment crises.
Organize joint religious/cultural celebrations with community (Eid, Holi, Christmas, other) to promote religious tolerance.
Published two books "Achi Umarkot Mein" and "Thar jo Lok Dhahap" to highlight importance of local heritage and social & cultural harmony. The books received recognition at the national level by receiving awards. The book reviews in English & Urdu languages have been published in local newspapers.
Organize community based Social Action Projects on social cohesion and cultural harmony.
Organize dialogues/Kachehris and festivals with community and other stakeholders to spread the message of religious brotherhood and friendship among religious leaders, educators, and writers.
Training of line departments such as Police, WDD, Social welfare department to establish direct links of community groups with line departments for the security of minorities, women and children.
Socio-Economic Cooperation for
Social Cohesion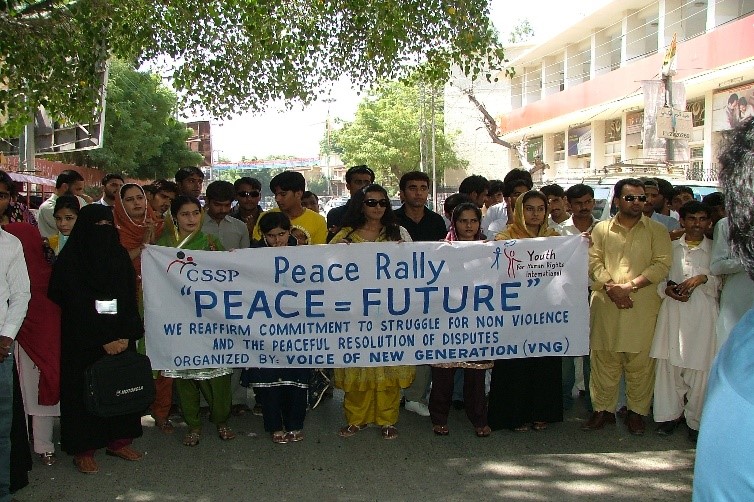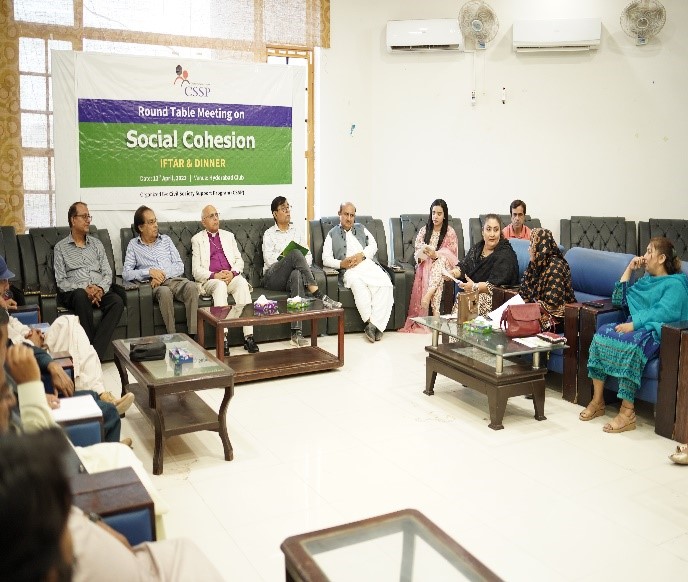 The CSSP's work on socio-economic cooperation for social cohesion focuses on promoting economic development and building inclusive societies. The organization emphasizes the significance of peace for sustained economic development of communities and aims to build a foundation of self-reliability and improve livelihood of youth while promoting peaceful co-existence. By building strong, sustainable economies and promoting social inclusion, the organization aims to reduce poverty and inequality, and contribute to stable and peaceful societies.
Form community leaders core groups to promote social cohesion and interfaith harmony.
Conduct Issue-based roundtable dialogues with key institutions for demanding peace and justice at local level.
Conduct trainings of youth groups on Social Activism, Leadership, and Enterprise Development
Organiz skill development trainings of selected youth groups on skill vocational skills and providing seed capital for small and medium enterprise development.
Conduct awareness raising seminars of public representatives to promote Rule of law and interfaith harmony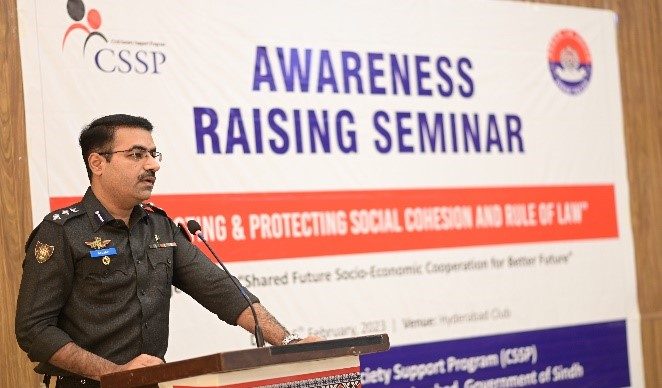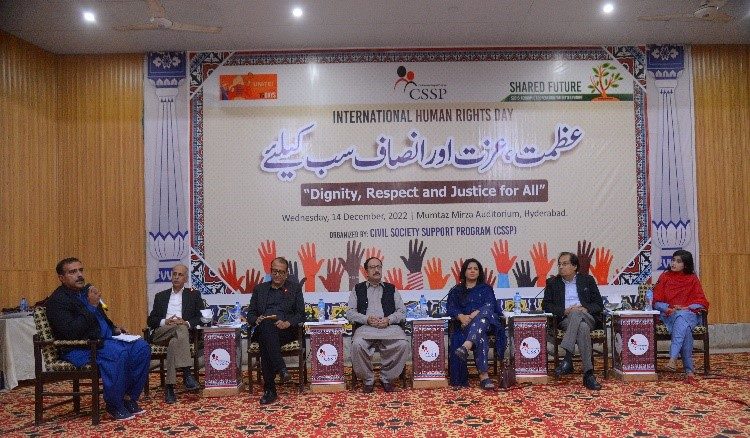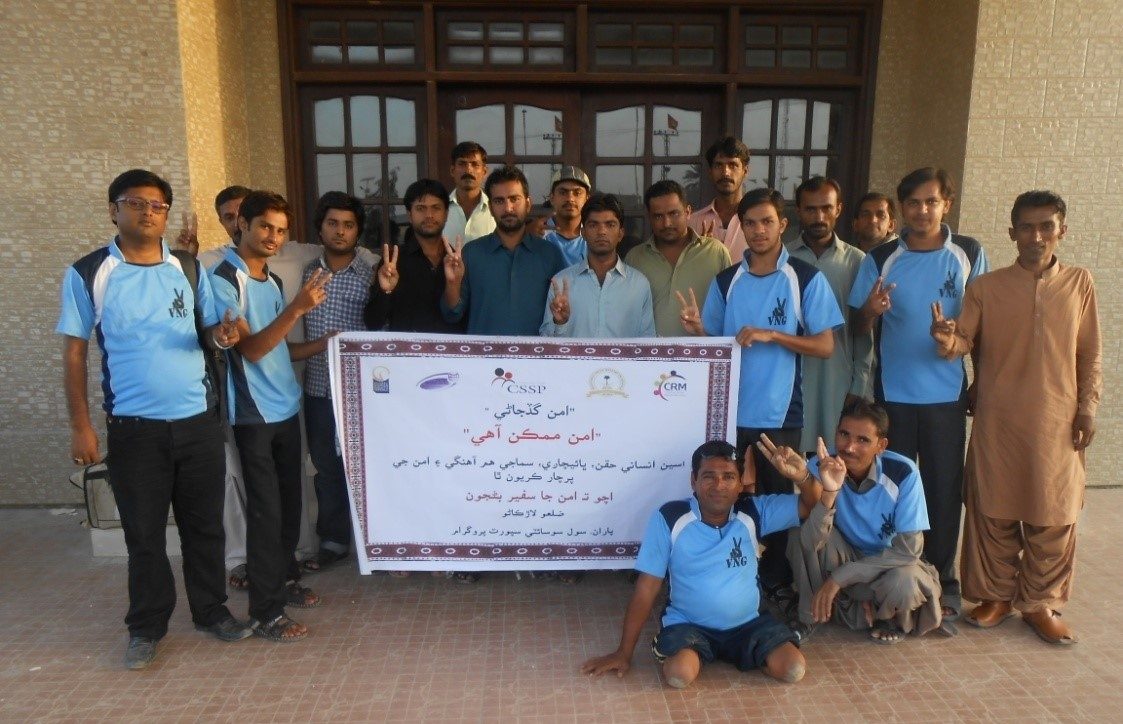 Peace is Possible Campaign
The CSSP launched a campaign on Interfaith harmony and peace titled "Peace is Possible" in five districts of Sindh. The main objective of the campaign was to promote interfaith harmony and protect religious freedom in Pakistan, especially in targeted districts where rights are more at risk.
The youth were engaged to lead the campaign at district level. Initially fifty potential youth were identified as Peace Ambassadors from different towns, talukas from which ten most potential ones were selected for orientation of the campaign.
The Peace Ambassadors led the Peace rallies and conducted a total five (05) Peace Assemblies at village level where religious and political representatives, community, civil society and social activists participated in discussions related to how promoting religious harmony and tolerance can improve social conditions among society. About 2200 youth in 05 districts also participated in the short marches and organized street theaters during the campaign.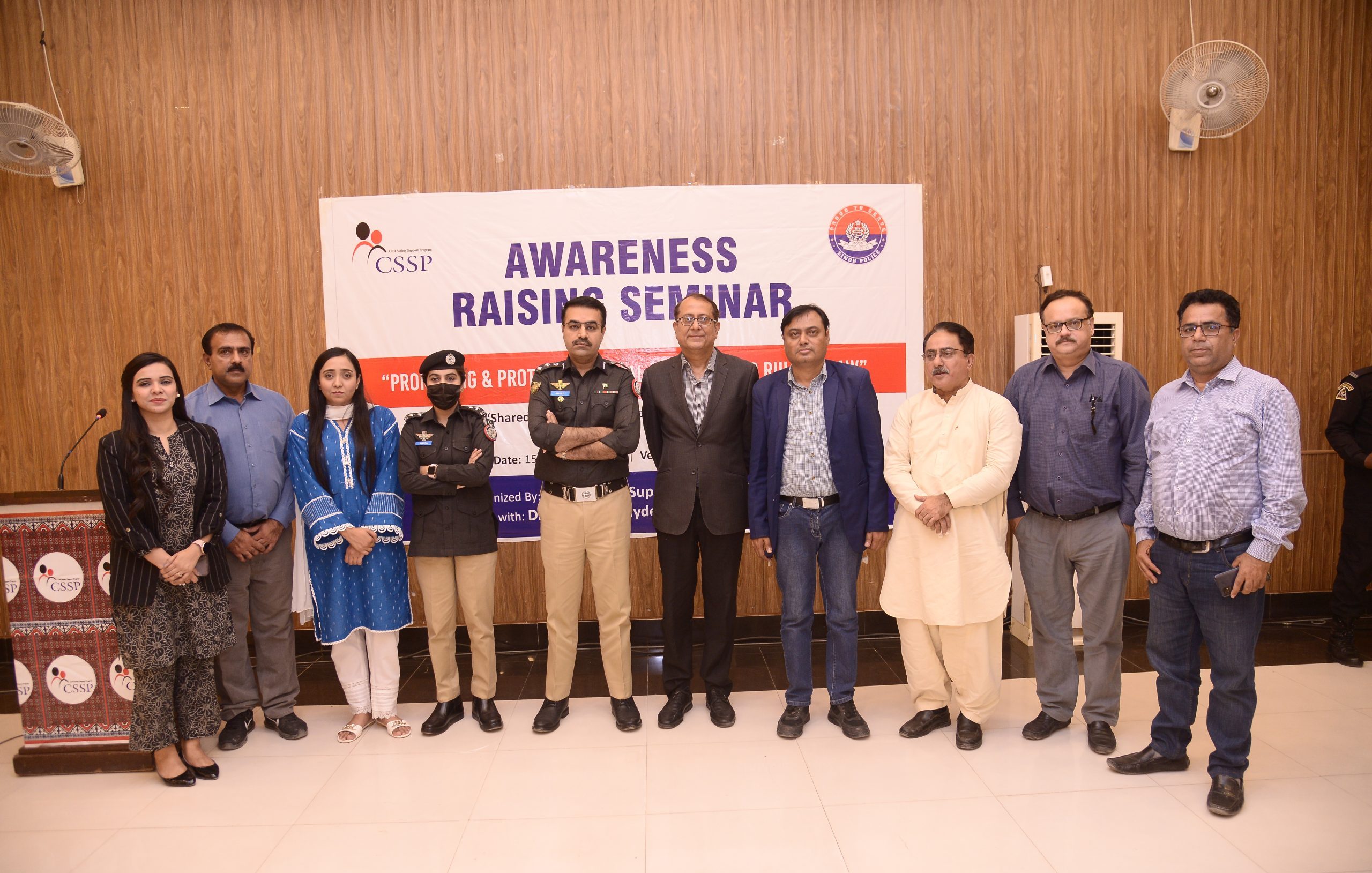 Raising Awareness on Minority Rights / Interfaith harmony
A series of seminars, workshops and dialogues on different topics. The purpose of these workshops was to increase awareness among people about rights of minorities, eliminating discriminatory laws, suggesting the need for new laws and also promoting religious harmony. The different programs were attended by a Provincial Minister, MNAs, MPAs, bar members, media persons, Hindu Panchayat members, writers, students and civil society activists etc.
Media Engagement
Organize training workshops for Journalists on "Minority Rights and Responsible Media" and "Protection of Religious Minorities through Credible Media Reporting and Monitoring". Both seminars were facilitated by renowned intellectuals and journalists. The purpose of these training workshops were to sensitize journalists about protection of rights of minorities through responsible media reporting.
Advocacy Campaigns / other initiatives
An MoU was signed with the Police department to establish Early Warning System and strengthen coordination mechanism among the Police and targeted Communities of the targeted area.
CSSP functionalized and equipped the defunct 15-Helpline Police Centre, capacitated 27 Police Officials and established linkages of Community Groups (CGs) with 12 Police Stations.
The CSSP conducted a research study on the increasing trends of Suicide in the Mirpurkhas region where special focus was on Tharparkar & Umerkot where the significant death toll belonged to minorities.
CSSP established a provincial level advocacy network/group which included members from human rights commission, WDD department, Child Protection department, media, Bar and representative of Umerkot Citizen forum (UCF). Their continuous advocacy led to approval of Hindu Marriage Act and consequently 05 Pandits were registered to do the Hindu marriage registration.
CSSP launched a media campaign on the rights of religious minorities. The media campaign covered celebration of International Day for Tolerance, International Women Day and Holi, organizing speech competition, lectures and rallies along with developing and disseminating of IEC Material on different rights of minorities. The Public Service Messages on Radio FM were also on aired.
The CSSP launched an advocacy campaign to increase changed attitudes and behaviors towards minorities. Different events were organized for the protection and promotion of rights of minorities and interfaith harmony. CSSP celebrated religious festivals of minority communities, conducted outreach seminar on REAT helpline, and held rallies to promote the message of peace, harmony and brotherhood.
The CSSP's work on Sports for Peace initiative focuses on using the power of sports to promote peace, social inclusion, and community development. The aim has been to address the ethnic and sectarian divides being perpetuated by violent extremist groups in the youth by engaging them in extracurricular activities/sports including Cricket, Football, Volleyball, Wanj Watti and Kodi Kodi. By harnessing the unifying power of sports, the organization aims to promote peace and contribute to the development of healthy and inclusive communities. The key interventions conducted under this initiative include;
Establish thirty (30) Sports Peace Clubs comprising 1500 (1300 male, 200 female) community youth/children as members of Sports Clubs
Formed a Sports Organizing Committee (SOC) consisting of 7 members at district level
Organized eleven (11) Sports Tournaments (four Cricket, three Volleyball, two Football and two traditional sports) in collaboration with SOC, District Education department and coaches/focal persons.
Organized two Taluka Level Sports Peace festivals where more than 1000 audience attended
Organized a 2-day District Sports mega Peace Festival where around 3800 people (3300 male, 500 female) participated.
Conducted training of 60 participants (sports coaches) for the selected sports by the Peace Ambassadors.